FREE DELIVERY
ON ORDERS OVER £100
4 The Bride and Groom
Whether you are the Bride or Groom at 4 The Wedding we have the perfect luxury wedding items suited for your big day. Offering our customers the best wedding accessories, clothes, jewellery and further wedding essentials, we pride ourselves in knowing our brides and grooms will look breathtaking and feel spectacular on their special day. We understand the busy lives of our brides and grooms, so stay less stressed by shopping all your wedding needs at 4 The Wedding.
4 The Bride
4 The Groom
Even on our bad days, I'm still glad that I married you
Jewellery
For all of your wedding jewellery you can find them here at 4 the wedding.
Bridal Jackets
Our wedding jackets are the perfect addition for the bride and bridesmaids
Bridal Veils
At 4thewedding we have veils to suit every wedding day look, from lace edge to diamante
Petticoats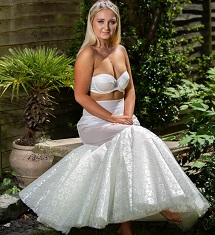 Our petticoats/underskirts will enhance the look of any wedding dresses
Wedding Accessories
We have an exquisite range of accessories from cufflinks for the groom and best man to the prettiest hairpieces for the bridal party. Wedding accessories complete your whole wedding day look, therefore we have hand-picked the most elegant and luxurious accessories. Please click through on the links below for your wedding look to come to life.
Wedding Clothes
We have an extensive range of wedding suits, jackets, trousers, shirts, and waistcoats 4 The Groom. Our range of suits are selected with quality and style in mind. When it comes to your special day, you want to look the part. At 4 The Wedding we like to make sure you have the best day in the best suit.
Wedding Jewellery
Diamonds are certainly a girl's best friend but an even better thing to share with the whole bridal party. We offer the most perfect wedding jewellery for the bride and her bridesmaids to add extra sparkle to the day. From silver to rose gold pendants, earrings and bracelets, elegance and delicacy will shine through your wedding day. A bridal necklace is a very important piece of jewellery and at 4 The wedding we want to make sure you look marvelous. View our collection and find the perfect wedding jewellery set to make a statement as you waltz down the aisle or treat your bridesmaids to an extra special momento to say a big thank you.
Bridal Veils and Petticoats
4 The Bride, we have a lovely collection of bridal jackets. Bridal Jackets not only make sure you stay warm throughout your wedding day, but also that you look your absolute best. From lace to faux fur or tulle jackets, we make sure we have catered for all your bridal looks. Prepare for your big day especially with UK weather with a wedding jacket, and we can guarantee you'll look incredible and remain comfortable.
At 4 The Wedding we offer stunning and beautiful bridal veils. One or two-tiered, find the perfect veil to compliment your wedding dress. Using delicate materials find lace veils, satin and pencil edge veils in our vast wedding veil range.